IMAX® & Giant Screen Films
LEADING THE WAY IN EDUCATIONAL ADVENTURE

Digital Crossing Production is a leader in the creation of high quality IMAX® and Giant Screen films. The goal of these films is to entertain and educate viewers, and to take them on an adventure without having to leave the theatre. 
With a focus on quality, Digital Crossing's Michael Dalton-Smith is a leader in the technical aspects of film-making, and Michael is on The Giant Screen Association's Technical Committee, advising and presenting to peers interested in best technical practices for IMAX® and Giant Screen films and the future of film-making.
Digital Crossing is pleased to have developed and completed IMAX® and Giant Screen film – Volcanoes – the Fires of Creation in 2018. This movie is delighting viewers in cities around the world. Volcanos: The Fires of Creation won the Best 3D Documentary at the highly prestigious 10th annual Advanced Imaging Society's Lumiere™  Awards.
Watch the Volcanoes: The Fires of Creation Trailer Now!
You can almost feel the heat in every frame. And with the recent arrival of teeth-chattering cold, there isn't a better option to learn while you warm up.
You'll leave with a greater appreciation of and respect for the natural world.
Mind blowing! I watched this film in 3D and I felt I could've reached out and touched the flames myself!
Dive into the heart of a volcano
Volcanoes: The Fires of Creation​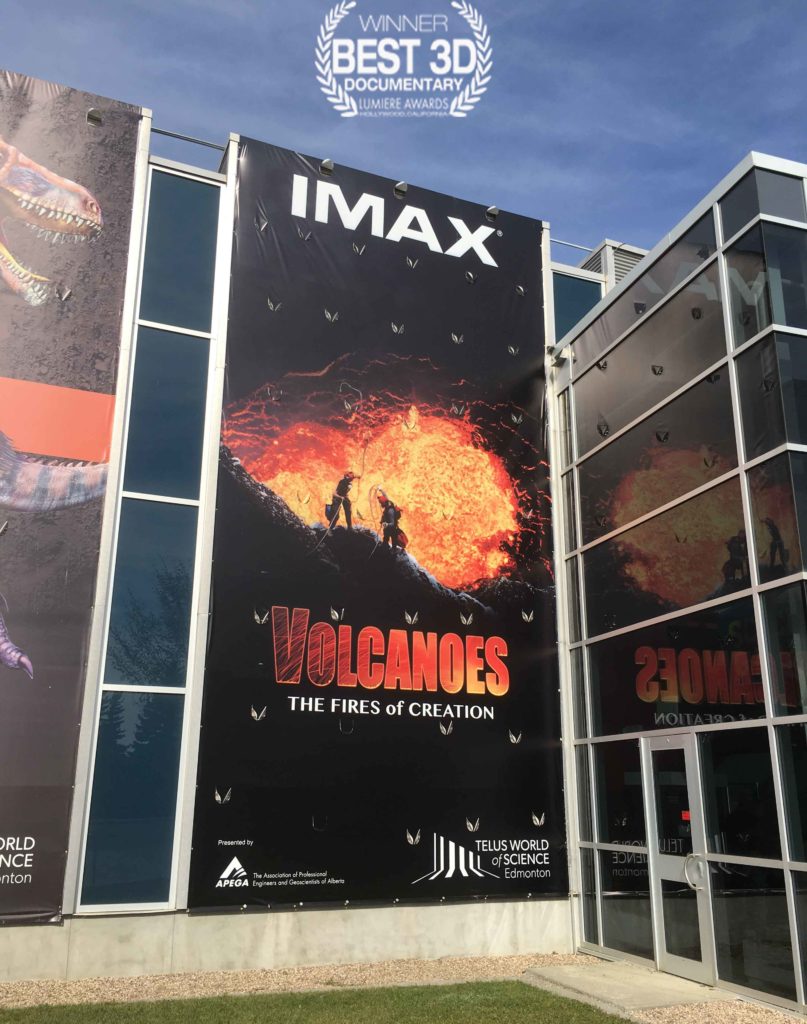 Release Date: Fall 2018
Available Formats: 2D and 3D, 15/70, DCI-compliant Digital, IMAX® Digital, IMAX® Laser, Dome-customized 15/70, Fulldome Digital
Producer: Digital Crossing Films
Distributor: SK Films
Volcanoes: The Fires of Creation IMAX® and Giant Screen movie is a tale of science, culture, and thrilling adventure.
Earth is a planet born of fire. For billions of years, volcanoes have helped forge the world we know. From the continents to the air we breathe and even life itself, all have been shaped by volcanic energy. These processes have created extraordinary ecosystems and wildlife habitats. With over 500 active volcanoes, the Earth is bursting at the seams with these forces of mass construction. The story of volcanoes is the story of the planet's creation and the story of us.
With intrepid explorer Carsten Peter, dodge boulders at the edge of an active volcano in Indonesia, descend to a lava lake in Vanuatu and visit incredible acid ponds, geysers and mineral deposit fields in Ethiopia. Travel across the globe to see the archeological ghost town of Pompeii, hydrothermal vents at the bottom of the ocean and witness the devastating effects of the 2018 Kilauea eruption in Hawaii.
Audiences will be on the edge of their seats as they discover molten worlds and exploding craters in this adrenaline-filled, immersive experience that only IMAX®/Giant Screen films can provide.
Visit the Volcanoes – the Fires of Creation Website for more information and to find out where you can see this exciting IMAX movie!